If you have forgotten your password and you have an email address tied to your ProgressBook account, you can request that the system email you instructions on how to reset it. (If you know your current password but want to change it, see "Changing Your Password" instead.)
Note: If you are required to log in using your Google account, you cannot request to reset a password. This procedure only functions for standard ProgressBook accounts. You must reset your password with Google.
Note: If you do not have an email address tied to your account, your parent or teacher can reset your password for you.
1.On the login screen, click Forgot your username or Password?.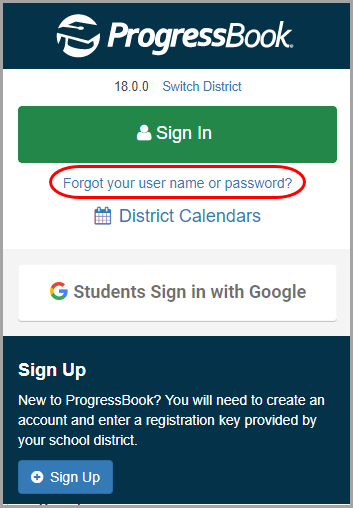 2.On the Account Recovery screen, select I forgot my password.
3.In the Please enter user name field, enter your username.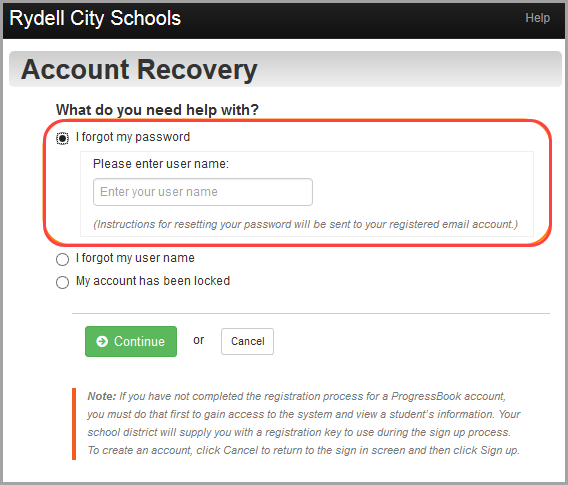 4.Click Continue.
A message displays indicating that an email containing instructions for resetting your password has been sent to you.
5.Go to your email account, and click the link to reset your password.
6.On the Password Reset screen, in the Username field, enter your ProgressBook account username.
7.In the New Password field, enter your new password.
8.In the Re-enter New Password field, enter your new password again.
Note: Passwords must contain 1 letter, 1 number, and 8 to 50 characters. They are case sensitive and cannot match the username.


The Sign In screen displays, and an email is sent to your account stating your password has been changed.
Note: Google and the Google logo are registered trademarks of Google Inc., used with permission.