The drop-down lists at the top of the GradeBook Grid to help you filter data are as follows:
•Class
•Period – Select one or all reporting periods
•View – Select Dated Assignments or Floating Assignments
•Type – Select one or all assignment types
For grade books with numerous assignments, page numbers display near the top-right corner of the grid. Select a page number to navigate to the desired page in the grade book.
At the top of the screen, you can also click Daily Comments and Period Attendance to navigate to those screens, respectively.
The columns, drop-down lists, and buttons to the left of the assignment columns display information and sometimes perform certain actions.
•Roster – Click to navigate to the Class Roster screen; click a student name in this column to go to the Student Profile
•Students drop-down list – Search for a student or student group by entering letters, and then select the student or group you want to display
•Cmt – Daily comment icons that you can click to open the Daily Comments window, on which you can view or enter comments
•Avg: [Class Average] – Student's current average, possible points, and earned points to two decimal places; for example, 83.27 B 204.5/245
•YTD Avg – Year-to-date average (if year-to-date grade calculations have been enabled for the report card used in the class)
•Miss – Number of missing assignments that you can click to open the Missing Assignments window, which lists the assignments missing for the student
•Att – Daily attendance codes that you can click to view a list of student absences/tardies
•New Assignment – Click to create a new assignment on the Assignment Details screen
Elements on the top of the assignment columns allow you to perform the following actions:
•assignment type abbreviation – Click to proceed to the Assignment Marks screen
•assignment name abbreviation – Hover your cursor to view the entire assignment name
•

,

, or 

 – Click to proceed to a VirtualClassroom quiz, discussion, or common assessment, respectively (where applicable)
Elements on the bottom of the assignment columns are the following:
•Average Points – Average number of points the class scored on the assignment
•Possible Points – Number of points possible on the assignment
•Average Percent – Average percentage the class scored on the assignment
•Assignment Weight
•Post Marks to the Web? – Select the checkbox to post assignment details and scores to ParentAccess and the Frontline ProgressBook Parent & Student app. If you mark a single student's assignment as excluded (not excluded and post), the marks for that single student's assignment do not display in ParentAccess or the Frontline ProgressBook Parent & Student app.
GradeBook Grid View Options and Navigation for a Standards-Based Class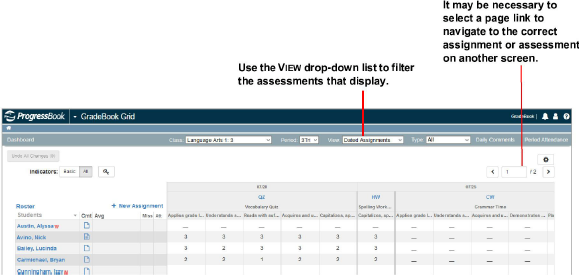 GradeBook Grid View Options and Navigation for a Traditional Class